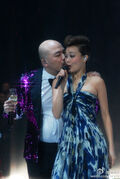 Wyman Wong (黃偉文, born in May 21) is a famous lyricist who has written song for Joey Yung for a long time. They are also good friends. Wyman will give advice to Joey's costumes. They always hang out to buy clothes. In 2011, Joey has performed in every show of Wyman's conert.
Before being a lyricist, Wyman has been a radio DJ. After his greaest hits, he has always been compared to Albert Leung. His first song cooperated with Joey is "Pain Love", which received great response from public. Wyman also worked as a song producer in songs in 2014.
Work with Joey
Ad blocker interference detected!
Wikia is a free-to-use site that makes money from advertising. We have a modified experience for viewers using ad blockers

Wikia is not accessible if you've made further modifications. Remove the custom ad blocker rule(s) and the page will load as expected.