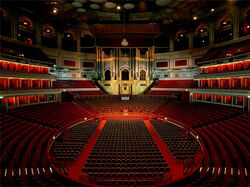 The Royal Albert Hall is an arts venue situated in the Knightsbridge area of the City of Westminster, London, England, best known for holding the annual summer Proms concerts since 1941. It is one of the United Kingdom's most treasured and distinctive buildings, recognisable the world over. Since its opening by Queen Victoria in 1871, the world's leading artists from every kind of performance genre have appeared on its stage. Each year it hosts more than 350 performances including classical concerts, rock and pop, ballet and opera, tennis, award ceremonies, school and community events, charity performances and lavish banquets.
2011, April 26
This concert is Joey Yung's first concert in Europe, Joey Yung Live at the Royal Albert Hall.
Set list
References
Ad blocker interference detected!
Wikia is a free-to-use site that makes money from advertising. We have a modified experience for viewers using ad blockers

Wikia is not accessible if you've made further modifications. Remove the custom ad blocker rule(s) and the page will load as expected.