"Red Snow" (赤地雪) is the fourth track and the first plug of Joey Yung's Cantonese album, Ten Most Wanted. It was also the TV commercial song of Broadway Electronic. The song represents the kind of need of reborn.
Live performances
Joey performed the song after "Mad About You" in the "Forest" act.
Music Video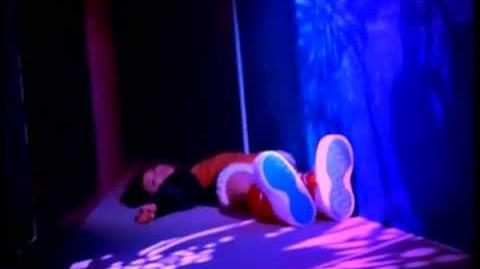 Lyrics
親愛的我 尊貴的我 天使一個
我要再去插上快樂翅膀
清澈的我 只要躺過 總有天國
我已學過追憶 以後要再學淡忘

問過罵過被你傷過恨也沒結果
看著日過月過候鳥飛過樹也練正果
就唱勵志的歌 即使想發狂 還更想釋放
憤怒過會害怕 怕為你又再失望

*憎我 至今都會憎你  
  我早已換過花的香氣 為何容讓記憶污染自己
  祝我 和誰走到下世紀 從頭能頌讚 
  人的優美 為自己 別再憎恨你*

親愛的我 尊貴的我 真理一個
過去永遠過去 切勿再傻 
焦躁的我 只要燒過 總會堅壯
我已學過灰心 以後有一些感覺別感覺

就當大個就要識過恨也沒結果
看著日過月過候鳥飛過樹也練正果
就唱勵志的歌 即使想發狂 還更想釋放
憤怒過會害怕 害你又再失望

Repeat*

燒過 變火鳥在飛
躺過 變初雪在赤地
想愛護自己

不想繼續憎我 我不想再憎你
我早已換過花的香氣 為何容讓記憶污染自己
祝我 和誰走到下世紀 從頭能頌讚 
人的優美 為自己 別再憎恨你

想愛護自己 方知你是你
Certifications
Charts
| | | | | | |
| --- | --- | --- | --- | --- | --- |
| Songs | Approx. Date | 903 | RTHK | 997 | TVB |
| 赤地雪 Red Snow | 03/12/2005 | 5 | 3 | 1 | 1 |
Awards
Music

Keyboards & Programmings by: Adrian Chau@sense
Drums: 肥仔明
All Guitars: 賢仔
Bass: 單立文
Chorus: Jackie Cho

Personnel

Recorded By: Sky@Zoo Music Studio
Mixed By: ray@ray.com.hk, 舒文@Zoo Music Studio

Publishing

OP: Sense (admin by EMI Music Publishing HK)/EEG Music Publishing Ltd.
Ad blocker interference detected!
Wikia is a free-to-use site that makes money from advertising. We have a modified experience for viewers using ad blockers

Wikia is not accessible if you've made further modifications. Remove the custom ad blocker rule(s) and the page will load as expected.