"Pointless Doing" (好事多為) is a Cantonese song and the third plug off Joey Yung's album, Bi-Heart. As the theme song for Sony Ericsson Reflection of Joey's Live 2005, the song was sent to South Korea for a brand new remix, named the "Reflection Mix". This version was used in the official music video, but eventually got released in 2013's All Delicious Collection.
Lyrics
Lyrics in () only present in the original track
原本這分鐘 我應該在試婚紗
但這刻跟你正 抱擁於酒吧
什麼可阻止我 三天後嫁給他
舊相好只有你 讓我牽掛

反悔吧 好嗎 (為這句話去跟你嗎)
他太悶 何必嫁

但願你像個君子 但是你像個瘋子
望望你做過的好事
一開始 原沒這種膽子
但是卻受你指使
你用愛 陷我於不義 拒絕都不易

情願等推翻 也推翻不到
或者早一點求我 亦會放膽去賭
辦囍酒當天 至失踪不好
人家都 只會怪 是我不好

不要話 不怕 (嫁了他但我不愛他)
若我揀你吧 揀對吧

但願你像個君子 但是你像個瘋子
望望你做過的好事
一開始 原沒這種膽子
但是卻受你指使
你用愛 陷我於不義 真出事

密會你就似走私 沒被發現也可恥
並未太做慣虧心事
不簽紙 現在放下了婚書
日後我或會反思 望望我做過的好事
一開始 能做你的妻子
或是更合我心思
但是你害怕給綁住 綁不住

但願你像個君子 但是你像個瘋子
望望你做過的好事
人生於此 情願與他開始
但是你又要阻止
現在要壞我的好事 都不易
Music Video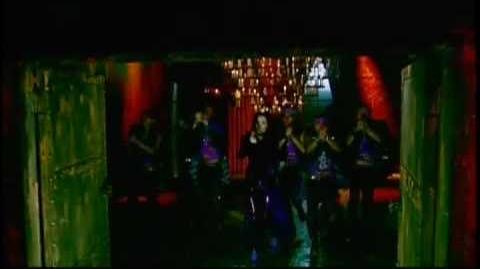 Certifications
Charts
| Song | Approx. Date | 903 | RTHK | 997 | TVB |
| --- | --- | --- | --- | --- | --- |
| 好事多為 Pointless Doing | 28/08/2005 | 1 | 2 | 5 | 4 |
Credits
Music
All keyboards and programmings by: Jos Jorgensen
Additional programmings: Schumann
Guitars: 賢仔
Chorus Arranged by: 細May
Chorus: 細May, Jackie, Pat
Personnel
Recorded by: Sky, Schumann @ Zoo Music Studio, KLS @ D&M Studio
Mixed by: ray @ ray.com.hk @ Zoo Music Studio
Publishing
OT: Crazy (Me On You)
OP: Global Talent Publishing / Reverb Music Ltd
SP: Fujipacific Music (S.E. Asia) Ltd.
Ad blocker interference detected!
Wikia is a free-to-use site that makes money from advertising. We have a modified experience for viewers using ad blockers

Wikia is not accessible if you've made further modifications. Remove the custom ad blocker rule(s) and the page will load as expected.