"Please" (麻煩你) was originally from Joey Yung's third Cantonese album, Grand on Stage. Joey re-recorded a new version and plugged it to different media in 2017 prior to the side track concert, My Secret Live.
Lyrics
麻煩說多一次 證實已經不可以 
麻煩你多一次 數我缺點
這一晚 是多麼易 
自由地說我那樣隨便 如是鐵般事實盡情坦白 請染污再一點

麻煩說多一次 只怪是我沒經驗 
多得你 使得心窩 只剩餘碎片
仍然陶醉 你狠心對待 仍然很冀待 
肯施捨你愛 誰又夠我想得開

麻煩你傷我心 麻煩你使我再下沉 
麻煩你 用心 使我痛哭可以更興奮
麻煩你使我更傷 誰人都說吃得苦才被景仰 
倘有些同情心理
麻煩你 盡量殘忍給我福氣

我故作這樣強可否終於給我好收場 我看似這樣強可否多一點讚賞

麻煩你傷我心 麻煩你使我再下沉 
麻煩你 用心 使我痛哭可以更興奮
麻煩你使我更傷 誰人都說吃得苦才被景仰 
倘有些同情心理
麻煩你 盡量殘忍給我福氣
麻煩你 別太誠懇使我憎你
Music Video
Directed by Suzanne Lai
Featured Phil Lam, Aka Chio from Super Girls and Eunice Chan
Released on March 6, 2017.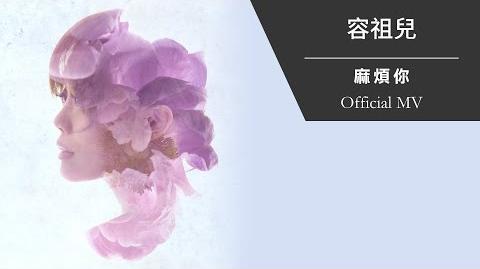 Commercial release
The re-recorded version was release as a digital single on iTunes and other online music platforms on March 7, 2017[1].

麻煩你 - Single
TRACK LIST
TITLE
LENGTH
1.
"麻煩你 Please"  
03:43
Joey Yung Wiki
Certifications
Charts
| Song | Approx. Date | 903 | RTHK | 997 | TVB |
| --- | --- | --- | --- | --- | --- |
| 麻煩你 Please | 07/03/2017 | 3 | --- | --- | --- |
Publishing
OP: Hilarious Productions Limited admin by EMI Music Publishing Hong Kong
Reference
Ad blocker interference detected!
Wikia is a free-to-use site that makes money from advertising. We have a modified experience for viewers using ad blockers

Wikia is not accessible if you've made further modifications. Remove the custom ad blocker rule(s) and the page will load as expected.