"Perspiring" (飆汗) is a Mandarin plug off Joey Yung's Mandarin album, Jump Up. It is the first duo between her and Taiwanese singer Show Luo.
Lyrics
光 在加溫沮喪 我渾身發燙 腳緊貼地板
Jump Up 快跟上 Everybody Fun 
我就這個模樣 山不轉路轉 快樂從不拐彎

耍狠不能耍一半 不能臨陣卻腿軟
你們全部都給我排排站 看我怎麼撂倒那對方
站在舞池正中央 自信沒有那麼難
對的事情不用太過抽象 不妨理直氣壯的勇敢

我們不開心就流汗 互動鼓勵變習慣
給人第一印象 我們自信滿滿

大聲唱 我們隨節奏搖晃 快跟上 舉起手一起鼓掌 
原來旋律會感染 
大聲唱 我們隨節奏搖晃 快跟上 那目標就在前方 
驕傲認識著對方 痛快流著汗

傷 被釘在牆上 你怎麼偽裝 挫折無法動彈
Jump Up 快跟上 Everybody Fun 
軋舞到天亮 比芥末還嗆 我們一起飆汗

堅特同一種主張 開心同一個方向
負面情緒滾到一旁晾乾 我們只對陽光去欣賞
我們很了這狀況 天生絕對的音感
挑釁的話不能只是漂亮 拿出實力就是給答案

我們不開心就流汗 互動鼓勵變習慣
給人第一印象 我們自信滿滿

大聲唱 我們隨節奏搖晃 快跟上 舉起手一起鼓掌 
原來旋律會感染 
大聲唱 我們隨節奏搖晃 快跟上 那目標就在前方 
驕傲認識著對方 痛快流著汗

大聲唱 我們隨節奏搖晃 快跟上 舉起手一起鼓掌 
原來旋律會感染 
大聲唱 我們隨節奏搖晃 快跟上 那目標就在前方 
驕傲認識著對方 痛快流著汗
Music Video
The video was directed by 賴偉康.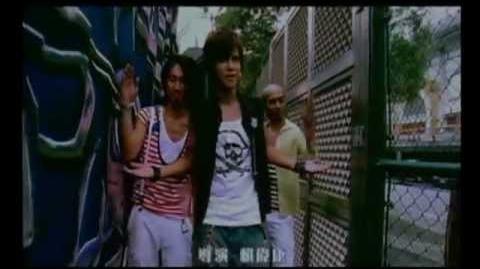 Certifications
Charts
| Song | Approx. Date | 903 | RTHK | 997 | TVB |
| --- | --- | --- | --- | --- | --- |
| 飆汗 Perspiring (duet with Show Luo) | 12/08/2006 | --- | 14 | --- | --- |
Credits
Music
Background Vocal Arrangement: Michael Lin
Background Vocals: Joey Yung / Show Luo
Personnel
Vocal Recorded by: Michael Lin@VIP Studio
Mixed by: Michael Lin@VIP Studio
Publishing
OP: VIP Music Publishing (SP: BMG Music Publishing HK Ltd., Taiwan Branch) / Alfa Music Publishing Co., Ltd. Template:Jump Up
Ad blocker interference detected!
Wikia is a free-to-use site that makes money from advertising. We have a modified experience for viewers using ad blockers

Wikia is not accessible if you've made further modifications. Remove the custom ad blocker rule(s) and the page will load as expected.