"Pain Love" (痛愛) is the first track and second plug of Joey Yung's first personal compilation album, Love Joey. It was a classic love song that made Joey turned to an image of "karaoke queen", because the song was very famous and people like to sing its karaoke a lot. People thought the song was the fourth song of the "Rubbish" project series (all songs are related to deep painful love) of Keith Chan and Wyman Wong. However, in 2010, they annouced that another Joey's song they did for her, "Disfigured", is the real fourth one (also first song with Joey and Keith).
"
這是一首為我打問慘情歌曲之路的主題曲。這首歌是我跟陳輝陽的第一次合作,他是我事業上一個非常重要的男人。在這之前,容祖兒的歌並沒有特定形象,而在《痛愛》之後,我的形象就鮮明多了!當時剛剛興起以流行曲做電話鈴聲,走在街上,到處都聽得見別人以《痛愛》做鈴聲,感覺很奇妙。然而,當年的我在錄製這首歌的時候,一點也不苦。從小到大,我都愛聽廣東流行曲。憑著以前聽歌,聽王菲關淑怡唱歌的感覺,我學著如何唱得滄桑一點。到現在,我還是非常快樂的一個人,要唱苦的感覺,也不一定要令自己變苦。
"
Music Video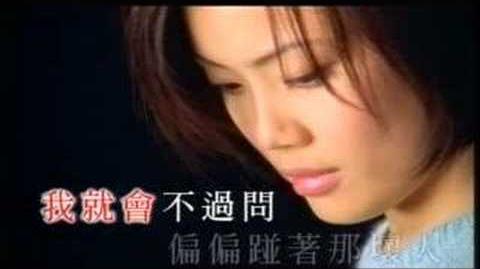 Lyrics
仍然難禁看看你這個壞人 有甚麼的吸引?
殘酷至此更讓我想靠近
心知要換個別人還是有人
如同前世久下你的吻 還怎麼敢怒憤
己習慣親朋好友問我怎會為你等
學會講只因這種狠深得我心

*喜歡你讓我下沉 喜歡你讓我哭
能持續獲得糟蹋亦滿足
喜歡你待我薄情 喜歡你為人冷酷
若是你也發現 你也喜歡虧待我
就讓你永遠痛愛著我
(我願讓你愛上我更加多)*

和諧甜美沒有天意弄人 有甚麼的吸引
誰待我好我就會不過問
偏偏碰著那壞人全都誘人
全球的情侶故事也相近 寧願天昏地暗
要為錯的人傷過恨過 方算是勇敢
長世間不喜歡開心喜歡痛心
Repeat **
Certifications
Charts
| Song | Approx. Date | 903 | RTHK | 997 | TVB |
| --- | --- | --- | --- | --- | --- |
| 痛愛 Pain Love | 14/01/2001 | 1 | 1 | 1 | 1 |
Awards
Music

All keyboards & Programming by: Keith Chan@好好笑
Drums by: Anthony Fernandes
Guitar by: Ah Yin
Bass by: 細威

Personnel

Recorded by: Keith Chan@好好笑 at Tong Lou assisted by Ruby
Mixed by: KY at Tong Lou

Publishing

OP: EMI Music Publishing Hong Kong / Warner / Chappell Music, Hong Kong Ltd.
Ad blocker interference detected!
Wikia is a free-to-use site that makes money from advertising. We have a modified experience for viewers using ad blockers

Wikia is not accessible if you've made further modifications. Remove the custom ad blocker rule(s) and the page will load as expected.