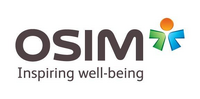 OSIM International Ltd (傲勝國際企業) SGX: O23, was originally established in Singapore in 1980 by Ron Sim, as an electrical and household appliance company under the name of R Sim Trading.
OSIM International Limited is the global leader in branded healthy lifestyle products. Listed in the Singapore Stock Exchange, OSIM has over 28 years of experience and uncompromising dedication in developing innovative and reliable healthy lifestyle products. OSIM is the name you can trust for a healthier lifestyle and overall well-being.
In 2011, the company has invited Joey Yung as one of the spokesperson for their new product.
uPhoria
uSoffa Runway
Videos
00:30

OSIM 推拿腳肌 - Joey 我最痛愛

05:26

Joey OSIM uPhoria TVC Making of
00:33

BEAUTY WITHOUT LIMIT OSIM 按摩美梳化

05:31

Joey 代言OSIM 按摩美梳化 幕後花絮
References
Ad blocker interference detected!
Wikia is a free-to-use site that makes money from advertising. We have a modified experience for viewers using ad blockers

Wikia is not accessible if you've made further modifications. Remove the custom ad blocker rule(s) and the page will load as expected.