"Natural Awkwardness" (天然呆) is a Cantonese song sung by Joey Yung, the first plug off her fifth EP, Me, Re-Do. This will be the second single in 2014 get plugged to all four media, eight months after "Love has Its Life Too", the duet with Leo Ku. It became the 21st plug that received four number 1s in major Hong Kong media.
Development
The title of the track was first revealed by Wyman on Instagram[1] in August. He described the song has a brand new genre and fresh theme, which he has never tried before. In late September, Joey announced the release of the song eventually[2]. Later that day, the digital ep of the song was released on iTunes[3].
The song is a kind of French bossa nova style, mixed with Cha Cha and Latin music. It is very relaxing and enthusiastic to listeners. Remarkably, it was the first time Wyman helped producing a song, cooperating with Harris. It was also the first time Joey sang in French in a song[4].
Joey posted a lyric video of the song, which was all directed and edited by herself, in late September. Originally, her label scheduled to film the official music video in Taiwan[5]. However, her label decided to cancel the plan, as an appreciation of her effort made[6]. On October 16, 2014, Joey posted the exact same video, but with lyrics inserted, on her channel, as the official video. The video features footage of her trip in London.
Lyrics
人突然 Wo Wo Wo Wo 讓意識流
同伴全 Wo Wo Wo Wo 掉到身後
讓我的意識 在羅馬街上 溜著狗
原地呆 Wo Wo Wo Wo十個鐘頭
魂在遊 Wo Wo Wo Wo 銀河盡處開罐頭
出竅是我的自由

情人如 糟透 最近的 那出口
只需要 靈魂儘快地輕巧地撤走
這個會 開夠 看老闆 卻不走
我便抬起頭 隔空跟天使互敬美酒

人人傻了吧失救
只好較量 誰更是荒謬
皮囊伴你探戈 元神在網上選購

人突然 Wo Wo Wo Wo 讓意識流
同伴全 Wo Wo Wo Wo 掉到身後
讓我的意識 在羅馬街上 溜著狗
原地呆 Wo Wo Wo Wo十個鐘頭
魂在遊 Wo Wo Wo Wo 銀河盡處開罐頭
一秒六撤出地球 出竅是我的自由

難捱時 可以 放個空 再開始
跟幾個 傻人在理論根本沒意思
要笑得 真摯 去蓋掩 我心思
正漫遊巴黎 已聽不懂你下個句子

人突然 Wo Wo Wo Wo 讓意識流
同伴全 Wo Wo Wo Wo 掉到身後
讓我的意識 在羅馬街上溜著狗
原地呆 Wo Wo Wo Wo十個鐘頭
魂在遊 Wo Wo Wo Wo 銀河盡處開舖頭
一秒六撤出地球 出竅是我的自由
Music Video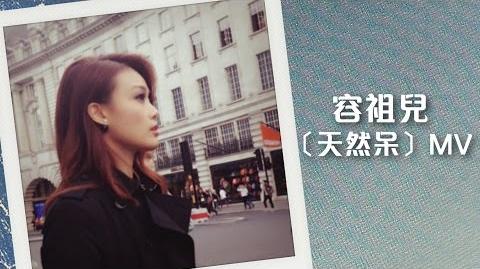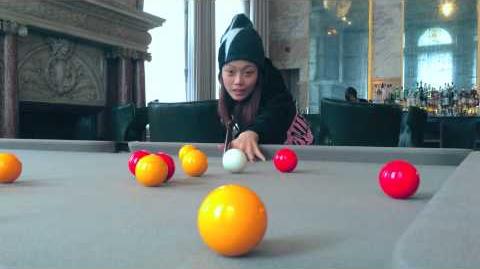 Commercial release
An exclusive digital EP of the song was released on iTunes[3], on September 23, 2014. It includes the song, the instrumental versions and an interview about the song from Joey.

天然呆 - EP
TRACK LIST
TITLE
LENGTH
1.
"天然呆 Natural Awkwardness"  
03:53
2.
"天然呆 Natural Awkwardness" (KTV)
03:53
3.
"天然呆 Natural Awkwardness" (Instrumental)
03:53
4.
"天然呆 Natural Awkwardness" (Joey's commentary)
02:21
Joey Yung Wiki
Certifications
Charts
| Song | Approx. Date | 903 | RTHK | 997 | TVB |
| --- | --- | --- | --- | --- | --- |
| 天然呆 Natural Awkwardness | 23/09/2014 | 1 | 1 | 1 | 1 |
Awards
Music
Programming by: Janet Yung and Alan Wong
Additional programming by: hobing
Violins by: Janet Yung
Recorded at: Milkshake Music
Guitars by: 蘇德華
Backing vocals by: Silver Ko and hobing
Personnel
Recorded by: hobing at hall b, goomusic studio
Mixed by: Frankie Hung at Avon Studios
Publishing
OP: Milkshake Music Ltd. (SP: Universal Music Publishing MGB Hong Kong Ltd.) / Wyman admin by Universal Music Publishing Ltd.
Refereneces
Ad blocker interference detected!
Wikia is a free-to-use site that makes money from advertising. We have a modified experience for viewers using ad blockers

Wikia is not accessible if you've made further modifications. Remove the custom ad blocker rule(s) and the page will load as expected.