"Momoe Yamaguchi" (山口百惠) is the tenth track and fourth plug of Joey Yung's Cantonese album, Joey & Joey. It was the first time 林寶 wrote song for Joey. The song is portraying Joey's mum because someone has described her like Momoe Yamaguchi.
Music Video
The Heison Ng directed video was shot on November 20, 2011, released on Dec 12, 2011.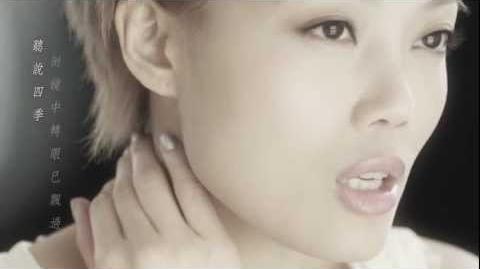 Lyrics
畫面多感動也好
微塵流影中共舞
壯闊場景 激情盡吐
比不起真正擁抱

於天梯攀下赤土
長裙隨風去逸舞
確信這世上有些旅途
行程平淡或更好

聽說四季倒鏡中轉眼已飄過
年華平平流逝了怎算滿足過
何妨隨流雲 而合上眼尋訪
花瓣渴望散落哪方

*原來可以慷慨下半生光彩
  如換得了光陰給一生最愛
  讓野菊放肆地盛開
  於一個細小精緻的舞台
  被幸福好好的灌栽
  鉛華可以洗退 但氣質不改
  如淡妝 白紙中可繪上花海
  就勇敢 讓溫馨締造下半生未來
  而率性 是柔情和蜜意裡的氣慨
 (就勇敢 浪花中退入下半生未來
  而率性 是柔情和蜜意裡的氣慨)*
 
青春火花耀眼麼
眉頭留不了盛況
卻信到鬢白晚燈淡黃
仍能無憾道晚安

腳印進駐過故都中某個街角
哪怕隨迴旋木馬轉過有多趟
何妨迷途時 來合上眼尋訪
心底最熱燙是哪方

Repeat*

鉛華可以洗退 但氣質不改
如淡妝 白紙中可繪上花海
就勇敢 浪花中退入下半生未來
而率性 是柔情和蜜意裡的氣慨

能率性 是猶幸尋獲了這生最愛
Certifications
Charts
| Song | Approx. Date | 903 | RTHK | 997 | TVB |
| --- | --- | --- | --- | --- | --- |
| 山口百惠 Momoe Yamaguchi | 15/12/2011 | 10 | --- | --- | --- |
Music

All Keyboards & Programmings: 藝琛
All Guitars: Tommy Chan
All Bass: 傑仔
All Drums: Anthony Fernades
Violin: Lesile Moonsun Ryang, Miyaka Suzuki Wilson
Viola: Alice Rosen
Cello: Richard Bamping
All Chorus: Jackie Cho

Personnel

Recorded By: 舒文, Ar Wil, 肥丘@Zoo Music Studio
Mixed By: Tatsuhito Naruse, 舒文@Zoo Music Studio

Publishing

OP: EEG Music Publishing Ltd./Shoot The Lyricist admin by Universal Music Publishing Ltd.
Ad blocker interference detected!
Wikia is a free-to-use site that makes money from advertising. We have a modified experience for viewers using ad blockers

Wikia is not accessible if you've made further modifications. Remove the custom ad blocker rule(s) and the page will load as expected.