"Modern Times" (摩登時代) is the second track and second plug of Joey Yung's Cantonese album, Ten Most Wanted. The track represents the need of communication.
Music Video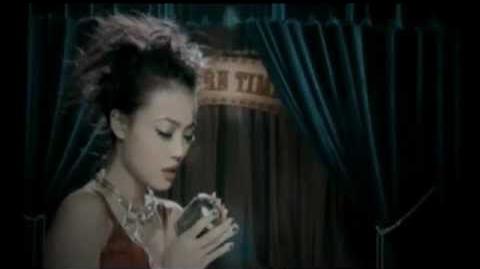 Lyrics
誰敢講 幾多位觀眾有幸在現場觀摩
這即興對峙默劇劇場誰看過
每個段落 吞聲兼忍氣地懷恨對方 悶了別再拖

無須講 自問表演比差利的戲 靜得多
銷聲匿跡各有各活在城市裡 更快樂
明明就結束 卻未閉幕

恨就恨在太堅持 忍得到都忍不過
到約會場合裡 怨也沒怨一句
冷清得可以 多敷衍了事

*投足舉手太多 神經開始痛楚
  當我不夠你善忘 死撐下去 太造作 為了甚麼
  不說話也 會換來 浮躁大動作更多

  離開講得太多 情感一早泄光
  默劇到尾聲 不要你認錯 你我分手吧
  這對白 默契 好到不用講
  (快要分手吧 可以這樣 沉默作結束 都不錯)*

從天黑 開始彼此冷眼沒話題捱天光
好彩有套默劇經典突然播放
冷看著熒幕發光 像聽候發落

Repeat**

從天黑 開始彼此冷眼沒話題 捱天光
彷彿正有兩套默劇 同時播放 偏偏這套極難看
Certifications
Charts
| Songs | Approx. Date | 903 | RTHK | 997 | TVB |
| --- | --- | --- | --- | --- | --- |
| 摩登時代 Modern Times | 16/02/2006 | 1 | 1 | 2 | 1 |
Awards
Music

Piano: 孫偉明
Keyboards & Programmings by: 舒文@ZooMusic, 孫偉明
Violins: Lesile Moonsun Ryang
Violas: Alice Rosen
Cello:Richard Bamping
All Guitars: Danny Leung
Bass: Pal Sinn
Chorus: Jackie Cho

Personnel

Recorded By: Sky@Zoo Music Studio, Ako@Avon Studio
Mixed By: ray@ray.com.hk@Zoo Music Studio

Publishing

OP: BMG Music Publishing HK Ltd./EEG Music Publishing Ltd.
Ad blocker interference detected!
Wikia is a free-to-use site that makes money from advertising. We have a modified experience for viewers using ad blockers

Wikia is not accessible if you've made further modifications. Remove the custom ad blocker rule(s) and the page will load as expected.