"Mayfly" (蜉蝣) is the first track of Joey Yung's Cantonese album, Joey & Joey. The song first previewed on September 16, 2011, on moov.hk. The song was popular after the preview, leading discussion of the song or "Wallpaper", previewed on the same day, should be the next single. "Wallpaper" was chosen and received great results. Due to the fail of first two plugs in 2012, "Mayfly" was finally plugged on March.
Music Video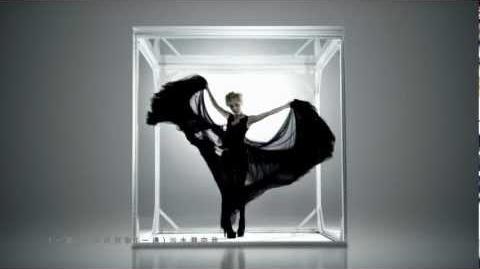 Credits
Released on: December 25, 2011
Directed by: WY Chan & Mo-C (YAMANYAMO)
Director of photography: Francis Chen
Art director and stylist: WY Chan (YAMANYAMO)
Compositor And Editor: Puzzle Lai (YAMANYAMO)
Wardrobe: Joey Yung
Production: YAMANYAMO Co. Ltd.
Post-Production: YAMANYAMO Co. Ltd.
Lyrics
(還有還有沿途無數蜉蝣
還有還有沿途無數蜉蝣
還有還有原來行到源頭
還有還有原來爬過洪流)

我看我要向左或行右
有兩隻可愛的怪獸
在這一刻咬著我衫袖(來這邊有魔咒)
所有美麗也想偷
所有快樂都要有
再吸口氣便打開我門口

(一邊)玻璃將破碎
(一邊)花貓穿插過
令我想起了甚麼傷口
(一邊)鮮花將送過
(一邊)而他將她抱起
路中經過的人 全部在拍手

*一天之中幾多將會有
  去到左會有光 右面或有暗
  浮城尚在晏晝 (要轉左 可轉右)
  從不知一天之中幾多將會有 (也要走)
  去到左會有他 右面或有你 蜉蝣尚未看透
  再轉左會有… *

我信我最信的是然後
有兩隻可愛的怪獸
在解釋我感受(來這邊會解咒)
所有美麗也想偷
所有快樂都要有
站於千個街口

(一邊)公車將剎掣
(一邊)污水濺向我
令我想起了荒謬
(一邊)疾風將吹起
(一邊)而紙跟紙跳舞
就此喜愛自己 為歲月拍手

Repeat*

(還有還有和孩童踢皮球
還有還有陪成人皺眉頭
還有還有沿途無數蜉蝣
還有還有沿途無數蜉蝣
還有還有原來行到源頭
還有還有原來爬過洪流)

蜉蝣問活著為了要長久 或要走

一天之中幾多將會有
去到左會有光 右面或有暗
浮城尚在晏晝(六月在左右)
從不知一天之中幾多將會有(得一對手)
去到左會有他 右面或有你 蜉蝣尚未看透
再轉左會有…

(還有還有和孩童踢皮球
還有還有陪成人皺眉頭
還有還有沿途無數蜉蝣
還有還有沿途無數蜉蝣)
要轉左 可轉右
(還有還有原來行到源頭
還有還有原來爬過洪流)
也要走 幾多幾多不久
Certifications
Charts
| Song | Approx. Date | 903 | RTHK | 997 | TVB |
| --- | --- | --- | --- | --- | --- |
| 蜉蝣 Mayfly | 08/03/2012 | --- | 1 | 2 | --- |
"---" represents the song was not charted or plugged on that media.
Music

Guitars: Jun Kung
Additional Guitars: Adam Fawcett
Live Drums: Jun Kung
Piano: Jun Kung
Programming & Arranging: Kelvin Avon

Personnel

Recording Engineer: Kelvin Avon
Mix Engineer: Kelvin Avon

Publishing

OP: Warner/Chappell Music Scandinavia AB/Ma-Jay Publishing HB (SP: Warner/Chappell Music, HK Ltd.)/Katt Rockell Music/BMG Sapphire Songs (BMI) (SP: Fujipacific Music (S.E. Asia) Ltd.)/ EEG Music Publishing Ltd.
Ad blocker interference detected!
Wikia is a free-to-use site that makes money from advertising. We have a modified experience for viewers using ad blockers

Wikia is not accessible if you've made further modifications. Remove the custom ad blocker rule(s) and the page will load as expected.