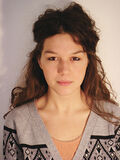 Karisia Paponi is a Italian designer who designed the outfit for Joey's cover of her Cantonese EP, Airport.
It's Four o'clock
The outfit which Joey wore for the photo set of Airport comes from this collecion.
Interview
The EastTouch magazine has done an interview with Karisia Paponi.
Karisia Paponi,28歲的年輕的意大利師裝設計師。剛於去年六月畢業於比利時安特衛普Royal Academy Of Fine Arts時裝設計系碩士課程,憑碩士畢業論文《It's Four o'clock》在時裝界嶄露頭角,被行內人視為一顆明日之星。喜愛色彩繽紛,因為喜歡看到人們因為身上的穿而感到更加快樂。

1. 這是首次有亞洲的明星穿你設計的衣服嗎?
是。

2.看見Joey穿上你設計的服裝,你有何感覺?
這些衣服穿在Joey身上看起來優雅,令她的個性十分突出。

3. 你對Joey的第一印象是甚麼?
她充滿魅力,而且她擁有一種特別的力量,能吸引眾人的視線和注意力。

4.可否告訴我們你在設計衣服時如何獲取靈感?
當我每一次開始進行一個新項目,我會到處搜索靈感。我會到處旅遊、閱讀、去博物館和圖書館。這些均令我感到充滿活力,準備開展新工作。若有一些事物吸引了我的注意,我會開始收集與之相關的影像和布料。我的眼睛、我的心對一切事物均抱持開放的態度來迎接新的能量,我的工作便是將它們翻譯成衣飾上的詩句。

5. 這裙子的輪廓穿在Joey身上十分鮮明有力。你對穿上這些衣飾後的Joey有何印象?
她的美與我心目中的女性美完全合,令我聯想起一個古希臘女神的純潔無瑕。

6. 我們非常喜歡那陶瓷手臂項鏈。你可否說多點有關製作這項鏈的事?
我的碩士論文為《IT'S 4 O'CLOCK》。靈感源自當代的瓷器茶具套件,為一套12組件。我的想法是轉化我們對瓷器的已有概念。它是一種魅力十足的物料,傳遞幽雅,同時充滿力量。我想將茶具的形態化成衣服,把身體化成一具雕塑。這個塑做成手臂狀的瓷器項鏈成了一個媒介,把一個女人幻化成一個女神。

7. 你可否分享一下你現正進行的工作?
我現正進行的一個新的設計項目, 名為《Sugar Queen》,這啟發自兒時的夢。
Images
Ad blocker interference detected!
Wikia is a free-to-use site that makes money from advertising. We have a modified experience for viewers using ad blockers

Wikia is not accessible if you've made further modifications. Remove the custom ad blocker rule(s) and the page will load as expected.