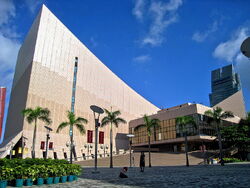 The Hong Kong Cultural Centre (香港文化中心) is a multipurpose performance facility in the Tsim Sha Tsui area of Hong Kong. Located at Salisbury Road, it was founded by the former Urban Council and, after 2000, is administered by the Leisure and Cultural Services Department of Hong Kong Government. It is a place for a wide variety of cultural performances.


2009, October 4
Joey Yung has perfomed two shows in the Grand Theatre of the centre for her 10th year anniversary mini-concert, Joey Yung Perfect 10 Live 2009.
Set list
Introduction
心淡 Disheartened (Encore)
Ad blocker interference detected!
Wikia is a free-to-use site that makes money from advertising. We have a modified experience for viewers using ad blockers

Wikia is not accessible if you've made further modifications. Remove the custom ad blocker rule(s) and the page will load as expected.