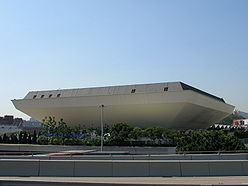 Hong Kong Coliseum (香港紅磡體育館) is a multi-purpose indoor arena, in Hung Hom, Kowloon, Hong Kong. It was built by the Urban Council and inaugurated on 27th, April 1983. The coliseum has 12,500 seats, which is the second largest among the same kind of indoor facilities in Hong Kong, only behind the 2005-opened AsiaWorld Arena. It is now managed by the Leisure and Cultural Service Department of the Hong Kong Government.
Although its Chinese name relates to sport or physical education, the venue is not limited to sport events. It is often the performance venue of top popular singers, such as Joey Yung and Eason Chan. Some universities rent it every year for congregation. Some performances like ice-skating also choose Hong Kong Coliseum as their stages.
Concerts starring Joey Yung
Concerts with Joey as guest
Ad blocker interference detected!
Wikia is a free-to-use site that makes money from advertising. We have a modified experience for viewers using ad blockers

Wikia is not accessible if you've made further modifications. Remove the custom ad blocker rule(s) and the page will load as expected.