"Double Champion" (雙冠軍) is the second track and the first plug of Joey Yung's EP, Joey Ten. The song is also the 17th of four stations 1st. It is also the TV commercial theme song of Boardway Electronics. It is a classic love song of Joey. When Joey was filming the TV commercial of Boardway Electronics, she also filmed the music video of the song. The song became famous as many people sang it in the karaoke.
Music Video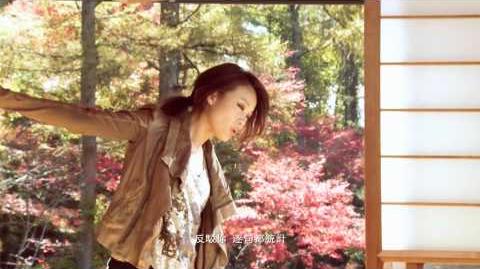 Lyrics
人人都講 即管相愛只要愛 永不怕難題
為何今天 終於跟你全力在維繫
既未變心 亦無越軌應廝守半世
何以事變 不依最初設計

同床的 所相信的不似你像 兩股氣勢
憑情感 可不可以將信仰 融合於一體
只要認錯 犯錯不是問題 誰這樣說的未明瞭實際

我永遠愛你但我未能 投降 讓步 答允
我永遠愛你亦不可以 放棄思想 去贊同你見解 胸襟
試過無數犧牲
很少糾紛夠豁達容納兩人 有雙冠軍

傳來新聞 出兵開戰得你說 會解困扶危
全球升溫 傷不到你談論亦無謂
聽著這種口吻 如何扮附和同意
就算極愛 不可強忍到底

明明知斗膽脫口反駁你 逐句都統計
猶如將夭心夭肺的芥蒂 培殖於心底
今次讓你 又有幾樣後遺
曾試著了解 十年全白費

我永遠愛你但我未能 投降 讓步 答允
我永遠愛你但這一對好勝的心 
永遠無法制止 相爭 叫愛情太傷感
很多東西 那價值雖被愛人 澈底軟禁

我永遠愛你但我未能 投降 讓步 答允
我永遠愛你亦不可以 放棄思想 去贊同你見解 胸襟
試過無數犧牲
很少糾紛有勝負讓我們 有雙冠軍
Certifications
Charts
| Song | Approx. Date | 903 | RTHK | 997 | TVB |
| --- | --- | --- | --- | --- | --- |
| 雙冠軍 Double Champion | 26/10/2009 | 1 | 1 | 1 | 1 |
Awards
Music

Personnel

Music recorded by: Gary Tong and Kin Lui at gt studio
Drums recorded by: Ken Au, aroom studio
Mixed by: Simon Li, noiz

Publishing

OP: East Asia Music Publishing Ltd. / Wyman admin by EMI Music Publishing Hong Kong
Ad blocker interference detected!
Wikia is a free-to-use site that makes money from advertising. We have a modified experience for viewers using ad blockers

Wikia is not accessible if you've made further modifications. Remove the custom ad blocker rule(s) and the page will load as expected.