"Deserved" (活該) is the fourth track and one of the promotional single of Joey Yung's seventh Mandarin album, Moment. It was the second time that Khalil wrote song for Joey, following the Cantonese hit, "Wallpaper". The song is about falling in love with a bad guy.
Before the album released, an alternate version was released online, it featured a slightly different instrumental, different Joey's vocal, and a shorter outro.
Music Video
Directed by YAMANYAMO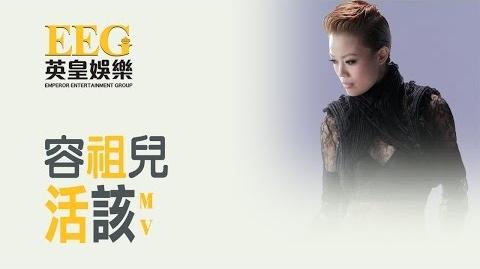 Lyrics
為什麼你對我這麼壞
為什麼我接近你閃開
你不要說這是一個人的錯

為什麼要摧毀我的愛
愛在一瞬間轉眼空白
是誰的罪 要我傷悲
而你只挑開我心扉

*People think that we're ok
都靠圈內的口碑
誰知我倆累不累
這樣的外觀美不美

傷害總令人憔悴
一言兩語還得罪
再不想隱瞞當下的後悔
你這個活該 你有膽就說她是誰*

為什麼你非要我忍耐
為什麼要賜予我損害
你別再拖 別再給我折磨

為什麼只有你最慷慨
總想借個台階滾下來
你太愛吹 請你閉嘴
快跑去你那小正妹

Repeat *

(Scat)
曾經你說給我戒指
我還等著簽紙
所以才有這麼久的堅持
開頭 我是你的公主
春夏秋冬 你有別的寵物
健身回家累不累
何時喜歡用女人的香水
襯衫上有個紅唇印
省點兒不須要你的澄清

別再浪費我的青春 我要留給更nice的人
Repeat x3(要留給真正愛我的那一個人)

誰來證明他的愛
他將會是我的菜
有些市場沒得賣
我不須要有人來陪
誰來證明他的愛
他將會是我的菜
有些市場沒得賣
那一天會來 我只要等待
Photos
Music

Keyboards, programming and editing: Edward Chan, Nick Wong and 梁戈華@怒花
All guitars: Randy Chow@怒花
Bass: Chan Siu Kei
Chorus Arrangement: Khalil Fong / Edward Chan
Chorus: Wei Na
Additional chorus: Joey Yung

Personnel

Recorded by: Edward Chan@novasonic
Mixed by: Edward Chan and King Kong @ 怒花 novasonic

Publishing

OP: Muzik Origins Company Ltd.
SP: Warner / Chappell Music, HK Ltd.
Ad blocker interference detected!
Wikia is a free-to-use site that makes money from advertising. We have a modified experience for viewers using ad blockers

Wikia is not accessible if you've made further modifications. Remove the custom ad blocker rule(s) and the page will load as expected.