"Charger" (充電器) is a Cantonese song performed by Joey Yung. It was recorded and plugged in late 2012[1][2]. She cooperated with Chan Kwong-wing again, three years after "Couple Things that I Know". The song was used for Broadway Electronic's TV commercial song in early 2013.
Music Video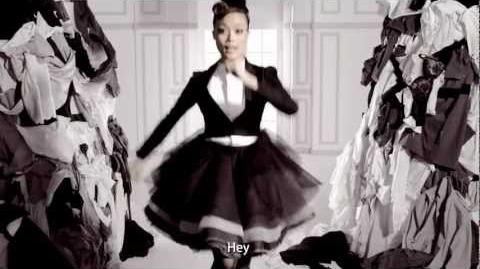 Lyrics
A brand new day 猶如再次開機
能源滿載 唯求做套好戲
卻恨平日角色似 融合多種機器
傳送照明和計算瀏覽器

瀕臨洩氣 瀕臨睡了不起
逢場作戲 原來也要真氣
每日還未到一半 人就開始喘氣
還喃喃自語想返去屋企 Hey

世界太美 也要去打理 
我發的電 能量太微
當我 欠缺朝氣 只要可串通我知己 充電器

而唯有你 臨危賜我生機
何時洩氣 隨時替我打氣
每日行600公里 沿路很多歪理
疲勞時便靠想起你雙臂 Hey

世界太美 也要去打理 
我發的電 能量太微
當我 欠缺朝氣 只要可串通我知己 又奮起

身兼風筒與冷氣 又飾演起重機
連洗衣機加變壓器 並擔當解碼器
一人做八齣戲 hey hey

世界太美 也要去打理 
我發的電 能量太微
需要 救急機器 只要將我轉駁主機
偶爾洩氣 也不捨棄 
只要可 串通我知己 充電器

來熊抱你 才能再次開機 
才能有氣 頑強到尾
才能讚美 A brand new day
Certifications
Charts
| Song | Approx. Date | 903 | RTHK | 997 | TVB |
| --- | --- | --- | --- | --- | --- |
| 充電器 Charger | 4/12/2012 | 8 | 4 | 3 | 1 |
Awards
Music

Guitar & Piano & Programming by: Chan Kwong-wing
Chorus by: Joey Yung, Joey Chu
Bass by: 傑仔
Trumpet by: Man Hey
Cello by: Anna Kwan

Personnel

Recorded by: Kay Chan x Click Music
Mixed by: ray@ray.com.hk at Zoo Music Studio

Publishing

OP: Click Music Limited (SP: Music Nation Publishing Company Ltd.) / Wyman admin by Universal Music Publishing Ltd.
References
Ad blocker interference detected!
Wikia is a free-to-use site that makes money from advertising. We have a modified experience for viewers using ad blockers

Wikia is not accessible if you've made further modifications. Remove the custom ad blocker rule(s) and the page will load as expected.