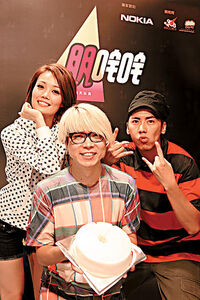 Carl Wong (王雙駿, born in July 13), who has cooperated with Joey Yung for a long time, is a Hong Kong composer and producer. The first song he cooperated wih Joey is "美麗在望 Beautiful Sight", then Carl keep writing many songs for songs, and they keep working with each other until now. In 2008, Carl has been the main producer which produced all the songs in Joey's album, In Motion.
Carl has also been the music director and band leader for concert StarLight, Number 6 and Concert 1314 consecutively, and received major praise from the public.
Work with Joey
"C" for composer of the song. "A" for arrangement of the song. "P" for producer of the song.
Ad blocker interference detected!
Wikia is a free-to-use site that makes money from advertising. We have a modified experience for viewers using ad blockers

Wikia is not accessible if you've made further modifications. Remove the custom ad blocker rule(s) and the page will load as expected.