"Available" (我好得閒) is an Cantonese song and plug from Joey Yung. It was written by Koream composers Yuta and Iki. The K-pop style dance song performed well in the charts.
Lyrics
晏晝兩點 我有會議
晏晝四點 約了面試
晏晝五點 去讀博士
傍晚再去補 法語日語

做個最搏殺的戰士
秒秒有緊要事
全年營業 不休假一次

每晚八點 舞劍練字
撐到半夜 再有會議

衝呀衝 找不到空
上月見父母親 得一個鐘
每日四份工 迫不透風
你偏卻跟我講 可有空 可有空

喜歡那個 終於告白 切忌答得慢
遲遲回情人 會心淡
即刻看看 空出哪日 約會吃餐飯
明年才排期 會轉冷

我今晚聽晚 呢晚嗰晚 邊晚都得閒
我今晚聽晚 呢晚嗰晚 邊晚都得閒
我今晚聽晚 呢晚嗰晚 邊晚都得閒
隨時能談情 與偷懶

Love me Love me
Kiss me Kiss me Boy
Call me Call me
為你所有預約 都可以撕爛~

喜歡那個 終於告白 切忌答得慢
遲遲回情人 會心淡
即刻看看 空出哪日 約會吃餐飯
明年才排期 會轉冷

我今晚聽晚 呢晚嗰晚 邊晚都得閒
我今晚聽晚 呢晚嗰晚 邊晚都得閒
我今晚聽晚 呢晚嗰晚 邊晚都得閒
隨時能談情 與偷懶

Oh~ Oh Oh~
Help me Boy
Woo~ Yeah~
但願你揀今晚

喜歡那個 終於告白 切忌答得慢
停停停停停 會心淡
即刻看看 空出哪日 約會吃餐飯
忙忙忙忙忙 會轉冷

我今晚聽晚 呢晚嗰晚 邊晚都得閒
我今晚聽晚 呢晚嗰晚 邊晚都得閒
我想見到你 所以今世 邊晚都得閒
何妨連環排 八千晚
Music Video
Joey shot the official video on January 18, 2016 in South Korea[1][2][3][4]. The Gibeck Lee directed video was premiered on March 1st, 2016.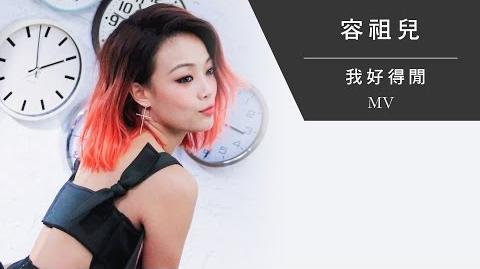 Gallery
Commercial release
An exclusive digital EP of the song was released on iTunes, on February 5, 2016[5]. It includes the song, the instrumental versions and an interview about the song from Joey.

TRACK LIST
TITLE
LENGTH
1.
"我好得閒 Available"  
03:03
2.
"我好得閒 Available" (KTV)
03:03
3.
"我好得閒 Available" (Instrumental)
03:03
4.
"我好得閒 Available" (Joey's commentary)
03:03
Joey Yung Wiki
Certifications
Charts
| Song | Approx. Date | 903 | RTHK | 997 | TVB |
| --- | --- | --- | --- | --- | --- |
| 我好得閒 Available | 05/02/2016 | 1 | 1 | 1 | 2 |
Awards
Credits
Music & Personnel
All instruments by: Yuta / Iki
Additional Programming by: TheInvisibleMen
All Joey Vocal & CHorus Produced by: TheInvisibleMen & Recorded @The Invisible Studio
Publishing
OP: Emperor Entertainment Korea Ltd. (SP: EEG Music Publishing Limited ) / Wyman admin by Universal Music Publishing Ltd.
References
Ad blocker interference detected!
Wikia is a free-to-use site that makes money from advertising. We have a modified experience for viewers using ad blockers

Wikia is not accessible if you've made further modifications. Remove the custom ad blocker rule(s) and the page will load as expected.